---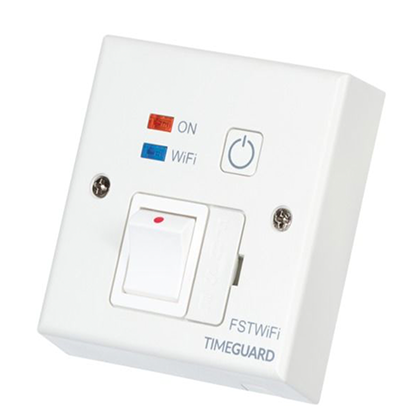 WIFI / 3G SMARTPHONE TIMECLOCK WITH 24 HR TIMING AND HOUR BOOSTER FOR HOUSES ONLY
€210
At immersion-heater.ie we always listen to our customers and keep an eye out for the latest technology to save our customers money we put the savings towards investing in better tools and products. We can now offer a Wi-Fi enabled control for all manner of electrical applications connected to time guard's FSTWiFi 13A Fused Spur Timeswitch. Wifi enabled immersion timers are compatible with all types of electrical products and electrical heaters. There is also a Weather safe IP65 version (FSTWIFITGV) for outdoor use. Programme settings are all activated and controlled via your mobile device, giving you access to and control over your installation at any time, no matter where you are. Total 13A 3kW control with confirmation of settings and switching status of the connected appliance via the on-screen app.
*Available for Android and IOS only.
*Works with WiFi and 4G.
*Can reduce running costs if unwanted programmes are cancelled.
*Supports multiple devices.
*Supports multiple users.
*Auto mode, with permanent ON, permanent OFF and holiday modes.
*Optional 1 and 2 hour boost.
*Supports additional programme sets, for half terms, holidays and seasonal programmes.
*6 ON/OFF periods, with daily repeats.
*Positive ON/OFF status, with colour coded display.
*Graphic representation and summary of output.
*utomatic summer/winter changeove